6 years ago this month, hubby and I tied the knot on a rocky beach in beautiful La Jolla, CA. It was the most gorgeous day when I married my best friend at sunset on August 27, 2005. Almost every year since, we made the trip back to California to celebrate.
We always try to locate that exact "spot" where we stood to say our vows (all these darn rocks look the same).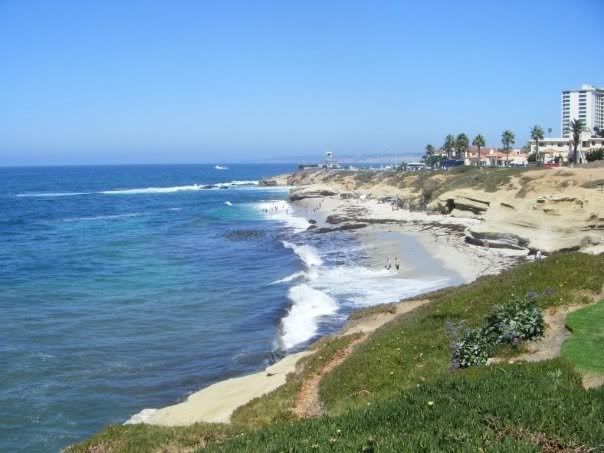 We made an annual vacation of it. The beach, the sun, the sushi, and our favorite regular hot spots where we can celebrate, relax and get away. Sure, it is relaxing to lay on the beach and sleep late in a hotel room, but what always happens when you get home on a Sunday night from vacation? You feel like you need another vacation to recover from your vacation before you go back to work.
This year we decided to do it a bit differently. What happens if we don't spend 4-5 days out of town, spending frivolously? What if we eliminate the stress of air travel and unfamiliar territory? What if we stay home and have a truly relaxing vacation in the comfort of our own city? Last time we spent the night in a hotel room, we noted that both our bed and our bedroom TV at home were bigger and felt more comfortable. I wont argue that it's not fabulous to visit the beach and try new restaurants, but this year I was excited about a relaxing STAY-cation. The bonus of all this is the money we would save, on airfare, rental cars, restaurants and hotel rooms, would put us closer to our goal of paying off my car by the end of the year.
We took the end of the week off of work and made (loose) plans to do fun activities around the Dallas/Fort Worth area. We were gong to do a couple of things every day that we normally wouldn't do. Some of things we planned had a price tag attached, at least one was deeply discounted thanks to my addiction to Groupon, and some activities were free. However, money is no object on our STAY-cation (within reason). There was no reason to be overly concerned about spending, when you consider the savings of staying at home. We decided NOT to center our vacation around food, like we normally do. Most planning in California trips were anchored in where we were eating our next meal. We were going to stick to our healthy eating (don't use the word diet), have fun, do active things and not use our vacation as an excuse to stray from our healthy lifestyle.
Ah, Murphy and his darn law. The day before our official STAY-cation began, a couple of little things went wrong. I wont get into specifics, but a few unexpected expenses and a small, albeit temporary, financial set-back made us THANKFUL that we weren't planning on getting on a plane in the morning. Now, we had some loose ends that needed tying that would have added to the stress of the first traveling day (or forced us to push it back).
Wednesday August 24th:
Normally at this day and time we would be getting up a 5am to race to the airport in the dark, taking our shoes off through security, arguing with flight attendants about carry-on bag sizes and Russ would be getting his annual " randomly selected for additional screening" pat down. The joys of travel. Not today.
We slept until 8am and woke up naturally without the alarm. First official activities of STAY-cation? Russ cleaned up dog poop from the kitchen floor (consequence of sleeping late) and I cleaned the toilet. Although not exactly vacation worthy activities, it's the great thing about a STAY-cation. You're entire life is not put on hold, just your work life. You can use this time to gets things done around the house so your week-ends aren't all about errands.
SEA LIFE GRAPEVINE AQUARIUM, GRAPEVINE, TX ($20 a person):
The aquarium in grapevine mills mall just opened last month and we have been talking about checking it out for a couple of weeks now. "
A two-story, 45000 square-foot aquarium housing more than 30 spectacular displays of diverse marine life for visitors to enjoy" boasts their website.
It was pretty cool, I enjoyed the walk-through underwater tunnel, but I wish the sharks were bigger (Russ wanted to see a man-eater) and for $20 a pop, it was over way too fast. We made it through in about a half hour. Granted, we didn't read every piece of information or play the trivia games, which would have extended the time. It still seemed a little too fast. I realize this is a kid friendly kind of event, but the place was packed with more unruly screaming kids that I would have expected for a Wednesday afternoon during the school year. Overall, there were some interesting things to look at, but I would have felt the experience matched the price had the tickets been $10 per person.
me at the aquarium. Russ didn't want to be in the picture.
TENNIS AND SWIMMING AND RUNNING ($ virtually free)
: Except the already spent price of the tennis rackets and balls, tennis is free. After lunch, we loaded up the truck and headed to the local outdoor courts. We don't play for points or rules, heck I'm not sure if I even remember how to keep score in this confusing scoring game (love? I don't "love" not having any points). Which didn't stop Russ from yelling "point!" every time I missed a ball. Is it even called a point in Tennis? I haven't played for scoring in 20 years. There once was a time when I was good at Tennis. Those days are long gone. We were just having fun doing our best to hit the balls back to forth. We played and laughed and sweat for about an hour before we packed it up, 2 tennis balls richer than when we arrived. Tennis balls are like life; you win some, you lose some.
Then, since we have the most awesome neighbors ever who let us swim in their pool while they are at work, we headed straight from the heat of the outdoor courts to the swimming pool to cool off. After a little swimming and horse-play, we were cooled off enough to attempt a short run on the street. 3.6 mile run/walk (it's hot out there mid-day!) and then another dive in the pool to cool off (again).
Yes, an unflattering picture of myself in a bathing suit on the internet. Anything for a chuckle.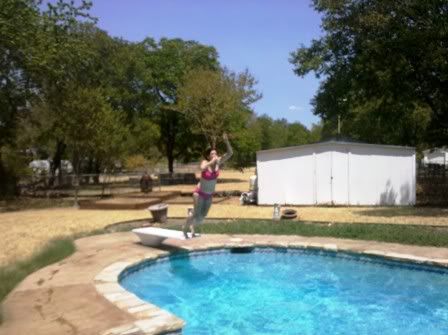 STAY-cation day one lesson: Sometimes, the free activities are more fun than the ones that cost money.
Thursday August 25th:
We slept in until almost 8 again today. We were still dealing with some of Russ' business issues this morning, which was taking time away from the things we wanted to do and adding some undue stress. I still feel thankful that we were not in California, because these issues aren't the sort that can solve themselves from another state. We ran a few business and personal errands in the morning, then headed to the mall in Dallas.
NORTH PARK MALL / H&M ($ free + purchases)
The much anticipated opening of the first North Texas H&M store happened last week in North Park Mall. Since we have a combined distaste for large crowds and people, I thought the perfect time to visit would be mid-week when the crowds would be minimal. When I lived in New York City (15 years ago) and the years I had to travel back there for work, H&M was my go-to place for inexpensive fashion-forward clothes and jewelry. I located the new store in the mall (while Russ patiently played Angry Birds on the mall bench outside) and was immediately overwhelmed by the mass amounts of choices. I scanned the racks quickly and tried on a few items that I didn't fall in love with before I decided on a $10 white cuff bracelet (so cute!) as my purchase for the day. I'm happy H&M is here and I need to come back with my girlfriends when shopping can be an all day event.
my H&M bracelet
WINDOW TINTING ($99)
We've been wanting to get the windows tinted on my car since I bought it a year ago. We noticed a local place advertising a $99 special, so we dropped my car off on the way to the mall. Russ surprised me by paying the bill when we picked it up! Happy Anniversary! What can I say, I am a wife that is easy to please.
My new tinted windows
(I need to wash my car)
RUNNING AND SWIMMING:
Since I am on STAY-cation, I decided not to kill myself by trying to get up to run at 5am every morning. However, in turn, I ended up killing myself running in the hottest part of the day. 102 at 4PM, we ran a quick 3 miles and then jumped in the neighbors pool to cool off. I am cutting way back on my miles this week, but still doing a little something everyday.
STAY-cation day two lesson: You can't plan a vacation anymore than you can plan your life out. Things change. Learn to roll with the punches and make the best of it. The important thing is that you are doing things together (and you're not at work).
Friday August 26th:
Another morning of sleeping until 8am. Ah, I could get used to this. We woke up this morning with all the loose ends finally tied on the business issues we were dealing with the last couple of days. Russ originally had a job scheduled this morning (you never really have a vacation when you own your own business), so I made an appointment to use my Living Social Deal for a manicure/pedicure/eyebrow wax.
STAR NAILS AND SPA, KELLER, TX ($25 Living Social Deal + extras):
I kind of thought for the $25 I paid for the deal, that I would get a basic bare bones pedicure, but no. She massaged my feet and calves, rubbed me with hot rocks and soaked my feet in this warm gel in plastic bags. The guy did my finger nails during the pedicure and the whole thing still took just under an hour and a half. THIS is what vacation is all about; relaxing and getting pampered. I definitely don't do this enough. I paid a couple extra bucks for a french mani/pedi (not included with the deal) and the guy talked me into an extra $15 for the gel manicure that is supposed to last 3-4 weeks. We'll see. It was a great little salon and I will go back.
DYNO-ROCK INDOOR ROCK CLIMBING, ARLINGTON, TX ($15 for both of us via Groupon):
When we first arrived, we were the only ones in the place. They gave us a quick safety and how-to session and set us loose. I must say all the people that worked there were really friendly and helpful. I guess they go out of their way to make sure no one dies on their watch, Man, rock climbing is pretty hard! I was sweating for sure. I was better at the climbing part, than I was at the belaying (holding the rope), which is not saying much. Russ was good, even with his size 13's, he made it to the top of most of the walls he attempted (pretty good for a guy who claims to be scared of heights). He was mostly scared because I was the worst belayer ever. The whole concept of letting someone down slowly was pretty much lost on me. I tried, I swear. Good thing Russ is tough. It would have been traumatic to accidentally kill my husband the day before our wedding anniversary. He did a good job of keeping me safe though . We went for just a couple of hours and I am sure I am going to be sore tomorrow.
I got in trouble after this shot because you apparently aren't supposed to take pictures while you are a belayer. Something about holding the rope with both hands and not being distracted while someone's life is in your hands? I don't know.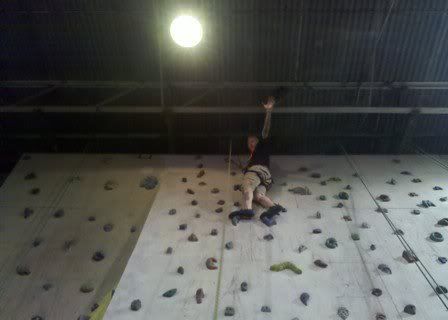 me!


RUNNING
: I toughed out another hot outdoor run this afternoon. Shorter than usual runs in the middle of the day. No excuses. Neither heat nor vacation are good enough excuses to slack on my workouts.
STAY-cation day three lesson: If we ever go rock climbing together and you like being alive, don't ever let me hold the rope while you climb. It might not end well. Consider yourself warned.
Saturday August 27th:
Today is the day! Happy 'Versary to my amazing hubby! I got up early today (7 is early for a Saturday) to meet my running partner/BFF for our regular Saturday morning long runs.
We are running a 15K together in a couple of weeks and really have to get the training miles in so we are ready. So, once again...
RUNNING:
Planned to do 9 miles but actually felt so good that I ended up running 10.25. What a difference 15 degrees makes. Yesterday's 3.6 miles in triple digit heat was nearly impossible, while today's early morning 10 mile run felt almost effortless. It was so nice to spend the miles catching up with my friend. We usually run and work together everyday but we hardly even talked since my stay-cation, so there was a lot to catch up on. I feel pretty much amazing now and ready for a fun day with my Boog.
COUPLES MASSAGE, MASSAGE EXPRESS, FORT WORTH, TX:
Let me first say that I LOVE Massage Express. I have been going there for massages for about 2 years now. I wont go anywhere else because Eric, 1/2 of husband and wife owner team, gives the best massages I have ever had. His wife is from China and he spent a couple of years there learning Chinese techniques. It's a small family run business and they seem like good people. They are a little unorganized when it comes to the scheduling/appointments but I put up with it because the massages are THAT good. I reserved the couples room for me and hubby. The great part of massages is that while it is pricey for 2 people ($65, per person an hour + tip = about $150), I can pay for my massages out of my medical spending account. Our personal bank account doesn't take the hit. Once we finally got in, we had an amazing, relaxing hour in a shared room. Maybe too relaxing. Afterward neither one of us had much energy to do anything else. I kind of felt like I just wanted to take a nap for the rest of the afternoon. It really was the perfect way to end a busy week.
With that, I think our "activities" for our Stay-cation are done. We had so many things on our list that we just never got around to doing, but we had fun, full days every day. We relaxed the rest of the day at home and we are gong to spend tomorrow catching up on errands, chores and responsibilities around the house. Tonight? Anniversary dinner.
ANNIVERSARY DINNER:
As some of you may know, Russ is on a temporary vegan diet until the end of the year. It's just a challenge he set for himself and he has been doing great. I, on the other hand, am still a carnivore (I stick to the healthy lean meats and fish). The only problem in deleting meat and dairy from your diet is that it severely limits the food choices for Anniversary Dinner. So, instead of going out for sushi and overpaying for rice and avocado rolls, I decided to make something special at home. I combined 2 recipes that I had made before and created a spinach, eggplant vegan "lasagna". That is, if you actually call something lasagna that doesn't have cheese or noodles. I dipped the eggplant slices in wheat breadcrumbs to create the "noodles" layer, I made a tofu and spinach mixture that very convincingly simulated the ricotta cheese layer and we used some of that vegan shredded "cheese". I created layers of sauce, eggplant, "ricotta" and shredded "cheese" just like a regular lasagna and baked it for a half hour. It turned out pretty delicious, if I do say so myself.
Anniversary Dinner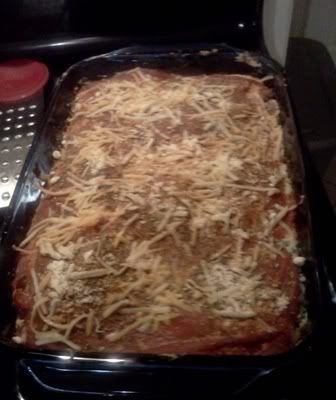 STAY-cation day four lesson: Eating at home can be more satisfying than going out. We actually managed not to eat a single meal outside our home for the entire STAY-cation. We filled up on healthy foods at home and didn't feel like we were missing anything by staying out of restaurants. When meals were not the center of our social activities, it became less important where and when we ate. Don't get me wrong. I love to eat, I love to eat out and I love restaurants. It is just that when you are limited to a vegan diet, the food you make at home is often better and more satisfying than the $18 plate of grilled veggies you would get at the restaurant.
Thanks everyone for reading my blog and enjoying the ride with me and Russ. I'm thankful for the time off of work and the wonderful fun-filled days with my hubby celebrating our marriage. Who knows what next year will bring? Whether it be travel, the beach, or another stint at home, I'm happy to celebrate another year with my hubby whatever way we decide.
I love you Boog. Happy 'versary.